I noticed this image at
Stephen Taylor's blog
. Click on it, and read the very fine print.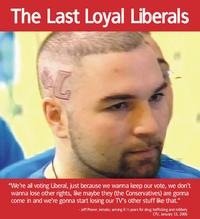 Now, consider the irony.
"We're all voting Liberal because we all want to keep our vote, we don't want to lose other rights, like maybe they (the Conservatives) are going to come in and we're going to start losing our TVs other stuff like that."
This guy, Jeff Power, is serving 6 1/2 years in prison for drug traficking and
robbery
.
And he's worried about what?
Losing his TV.